17th of June, "D-Day" for me and Arthur. This was the day we left the picturesque and multicultural town Alice Springs (AS) on a road trip towards Darwin (D). As we didn't know exactly how long it was going to take us, our departure asked a minimum of preparation. We were going to spend the following days in remote areas with barely or no running water. Campfires, 1.000.000 stars, dusty roads and impressive campers on the Stuart Highway became part of our daily experiences.
7 Days off line…
Preparation
As Arthur's car is a 4 wheel drive we were able to reach some more remote places. Buying food on the road is rather expensive and finding water isn't always convenient. Before hitting the road we made sure we brought the following things from AS:
Full tank of fuel + 2x20l jerry cans (Duh!)

Plenty of water: 2x10l drinking water+ 10l of refillable tap water

Biscuits

Fruit

Rice

Pasta

Breakfast: Peanut butter + jam + bread

Instant coffee

Gas for camping stove
This is but a small part of all the things we brought with us, but increased a lot in price as soon we hit the road. A fridge wasn't installed in Arthur's car, so every couple of days we bought a bag of ice for our cool box.
The Outback is also infamous for having heaps of flies. Depending on the place or area you're at, but they will always be there. Luckily it's winter now, so there not as many as in summer. They still fly and land curiously on your face, in your ears and sometimes in your mouth. Bon appétit!

Night 1: Alice Springs
When the car was ready, we left AS around 2pm. Our first stop was "only"200
km north of Alice Springs.Here, we met Julien, a
French traveller who was really happy to see us. He was on a road trip from D to AS. Julien kept onthanking and sharing his wine with us. He explained we were the first "young" people he met on his road trip to AS and was happy to share his stories with us. He was right: 90% of all the people we met on our trip were at least 65 years old.
As many of the free camping spots in Australia, ours was next to the highway. Speeding road trains during the night as a result.
A road train is like a normal truck, but they can carry up to 4 trailers! Optimus prime is peanuts compared to these badboys…
It was also this night I discovered the amazing stars you could see from the outback! It's really relaxing to see a couple of shooting stars and the milky way.
My first night sleeping in the 4WD as what I would call, the Sarcophagus. The mattress on top of our nicely arranged equipment, didn't leave much space between the roof of the car. Our rhythm for the rest of the week became bedtime around 9-10 pm to wake up around 7am for sunrise.
[flickr_set id="72157682401431062″]
N2: Old police station waterhole
Barrow Creek Hotel
During our second day, we spent most of the time driving on a rough 4WD road in the Davenport Ranges National Park.
But before hitting the park, we refilled our tank at the Barrow Creek Hotel.  This place is definitely worth a visit if you're passing by! The collection of banknotes on the wall, the old fashioned fuel pomps and the old watertank definitely bring a nice atmosphere to this place. The owner is the Gandalf of the area. Not as wise or magical but he has the same beard.
After 150km of rough terrain, nice scenery but no kangaroos we arrived in the beautiful camping spot called Old Police Station Waterhole.
5 months in Australia, and I still haven't seen a proper kangaroo that's alive! #roadkill
N3: Attack Creek
Devils Marbles
The next morning, we left the waterhole behind us and continued our journey on the Stuart Highway. Another highlight on the Stuart Highway are the Devils Marbles.
Formed by erosion over millions of years, the Devils Marbles are made of granite, which surfaces like an island in the desert. They vary in size, from 50 centimetres up to six metres across. Many of the giant stones are precariously balanced on top of one another, appearing to defy gravity. They continue to crack and erode today, creating an ever-changing landscape. – 
Only seeing a couple of trees and almost no hills, make this landscape appear rather boring. To discover these massive boulders in the middle of nowhere is really intriguing! Similar feeling when you see Uluru for the first time!
Tennant creek
After this short break of flies and balls, we continued towards Tennant Creek. We didn't feel really comfortable hanging out in this small town.  After refilling our Egyptian funeral machine, cool box and a quick shower we spent the night at Attack Creek. Another free camping spot situated next to the highway.
[flickr_set id="72157682550725114″]
N4-5: Mataranka
After a couple of days on the road, we started to get pretty well organised on the tasks we had to do when we arrived or departed at a spot.
Arriving:
Relax/explore/tan/swim

Cook

Prepare the Sarcophagus for the night:
Move our bags from our bed to the front seats

Enjoy a book or a Belgian story next to a bushfire
Leaving:
Doing dishes

Solve the puzzle of all the cutlery

Refilling water if possible

Cleaning all the rubbish

Repack our personal belongings to put on the bed
Daly Water
Our destination for this day would become Mataranka, famous for its hot springs. We drove from Attack Creek towards Mataranka with a short break in Daly Water (DW).
DW is famous for it's old pub designed with souvenirs from all over the world. Souvenirs as underwear, hats, banknotes, cameras, drivers licences… This tradition started when the WWII soldiers had to wait for their plane to refuel in the airfield close by. Nowadays it's more backpackers like us who leave souvenirs 😉
Elsey National Park
After another long drive we arrived in Mataranka and went for a swim in the Bitter Springs.
Again the average age of the swimming (more floating) people was around 65. But this didn't demotivate us to enjoy this beautiful place. The spring is completely natural and the 34ºC water is crystal clear! Palmtrees and birds on the side made it feel like paradise!
We spent two nights at the peaceful and wonderful campground called Jalmurak. From the campsite, you can easily go for a hike near the river. Signs pointed out the risk of salt-water crocodiles in this area so canoeing and swimming was temporarily forbidden. This made our hike near the waterfront quiet an adventure. Afterwards we heard from our camping neighbour that they haven't spotted a crocodile for over 9 years… On the other hand, we didn't want to be the first ones to discover 😉
Go past the beach, put your bags above your head and continue trough the water. It's beautiful up there!
N6: Umbrawarra Gorge
Our friendly neighbour highly recommended us to spend a night at Umbrawarra near Pine Creek.
"Go past the beach, put your bags above your head and continue trough the water. It's beautiful up there!" was his advice.
Also in Katherine we discovered that due to crocodiles, canoeing and swimming was temporarily forbidden. Umbrawarra it is!
After 20 km of dirt road from the highway we arrived at the Umbrawarra Gorge. It is the 20k definitely worth it because this place is gorgeous! Quiet camping site, curious birds begging for your food the highlight: the beautiful gorge itself and the enormous frogs at night, made this a magical place! Check out the pictures and you'll understand…
[flickr_set id="72157682552108994″]
Darwin
The next morning we took our time to leave this place at a slow pace.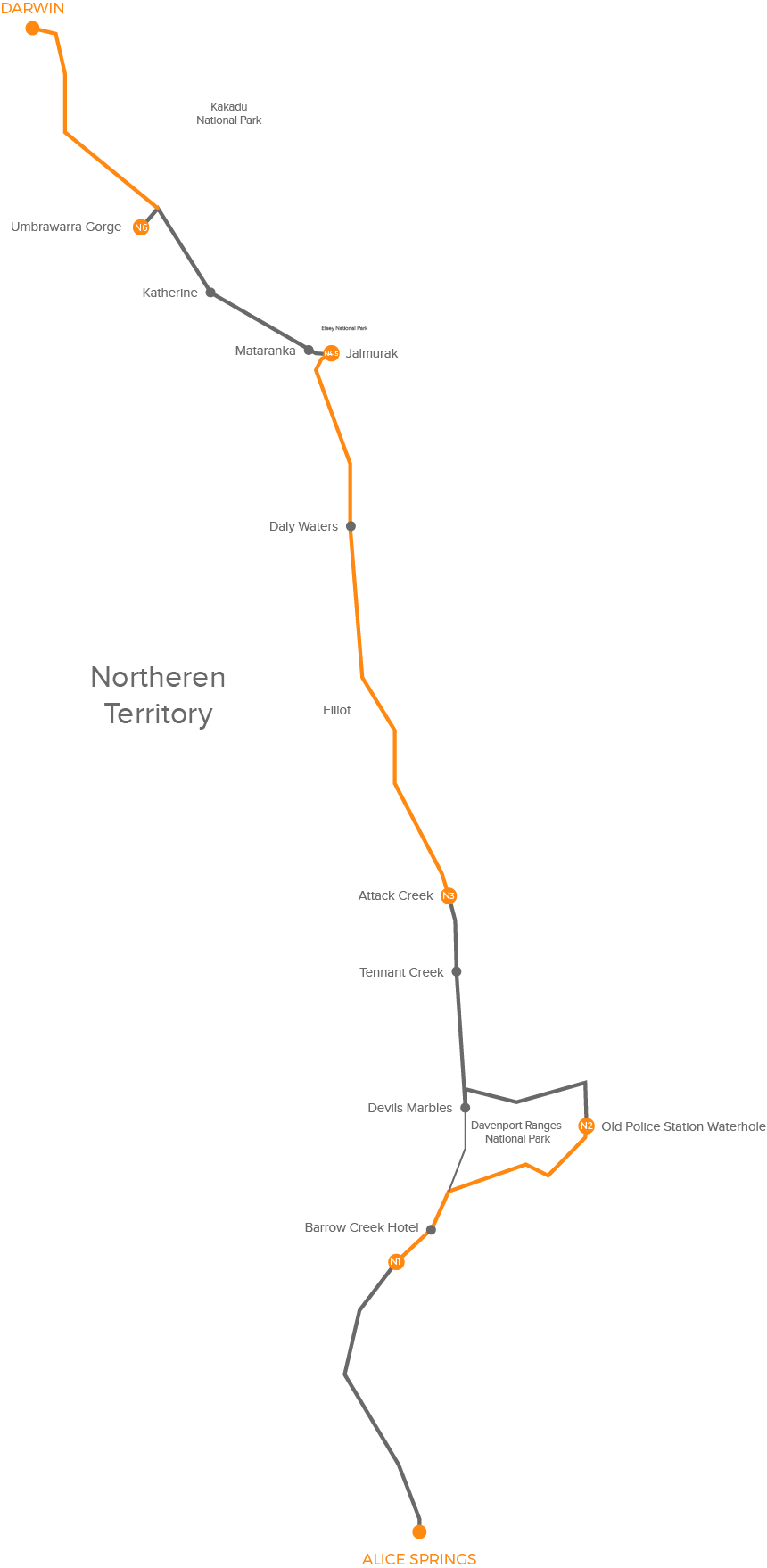 We left the campsite behind us and drove the last 200km to
Darwin.
After 7 days on the road in remote areas, it was a strange feeling arriving in a "big" city like Darwin. For each day we travelled north, the temperature gradually increased. The first night we were standing outside with a woolen hat, and here in Darwin we're walking around in flipflops and t-shirt at 10pm.
To bring our road trip to an end, we visited an Australian rodeo show yesterday. Yehaa cowboy!
Arthur, thanks a lot for being an awesome travelmate and a solid driver! It was a pleasure exchanging stories near the campfire and bringing back memories from Belgian television! Enjoy the East Coast!
I haven't decided what my next destination will be in Australia. I'll figure it out. First make sure I get rid of this farmers tan.
Priorities you know 😉