With some sore muscles, a pair of new Kungfu training shoes and a Shaolin flame inside of me, I made my way back to Beijing. 
Sunny Beijing this time. Funny, because the name of my hostel is called sunrise hostel. (ba-dum-tss)
I think I can praise the gods, because it didn't rain during my 26 days in China. Finally I found the time to work a little bit on my showreel (portfolio video to showcase my creative projects). It's not finished yet… Maybe I'll finish it in Vietnam 😛
Sunrise Hostel
Arriving in a warm bedroom after sleeping two weeks in a fridge, feels heavenly! Too hot during the night though… Three of my roommates were kind of living in the dorm. There was George, a really friendly Serbian guy who was working in the bar of the hostel. Shi Cheng and Hope (his English name), two Chinese guys, both working or looking for a job in Beijing.
I also became good friends with Tracy, a Malay-Chinese girl who already spent two months in Beijing.
My first impression of Beijing wasn't really positive when I arrived here.
Language barrier, bad weather, meeting the wrong people in the street etc were probably the reason for this. (before the Shaolin academy)
But after some interesting discussions, a photoshoot and a drunk birthday party, these four musketeers gave me a better view on China and their habits etc.
Oh yes, if you ever make it to China, try the Chinese Tequila: Baijiu.
Or don't, it's disgusting… But dirt cheap and between 40-60% alcohol.
[flickr_set id="72157673918286123"]
The Great Wall
In our dorm, I also met Marc: a funny Swiss guy who has been travelling for about 10 months.
He figured out how to get to the great wall by public transport.
I couldn't leave China, without doing a handstand on the Great Wall, so off we went.
It took us about three hours, lots of patience declining (mini)-bus/taxi-drivers and a focused mind to get there.
Even on the public bus, mini-bus drivers were trying to get us off the bus to force us paying their ride.
6:00 left from the hostel

7:15 bus to Huariou

9:15 after trouble finding the right busstop, mini-bus to entrance

10:00 start the climb on the wall

12:15 picnic on tower 29

14:45 break on tower 1

15:00 start walking down

19:00 back at the hostel
A long but fantastic day! Thanks Marc for the awesome day!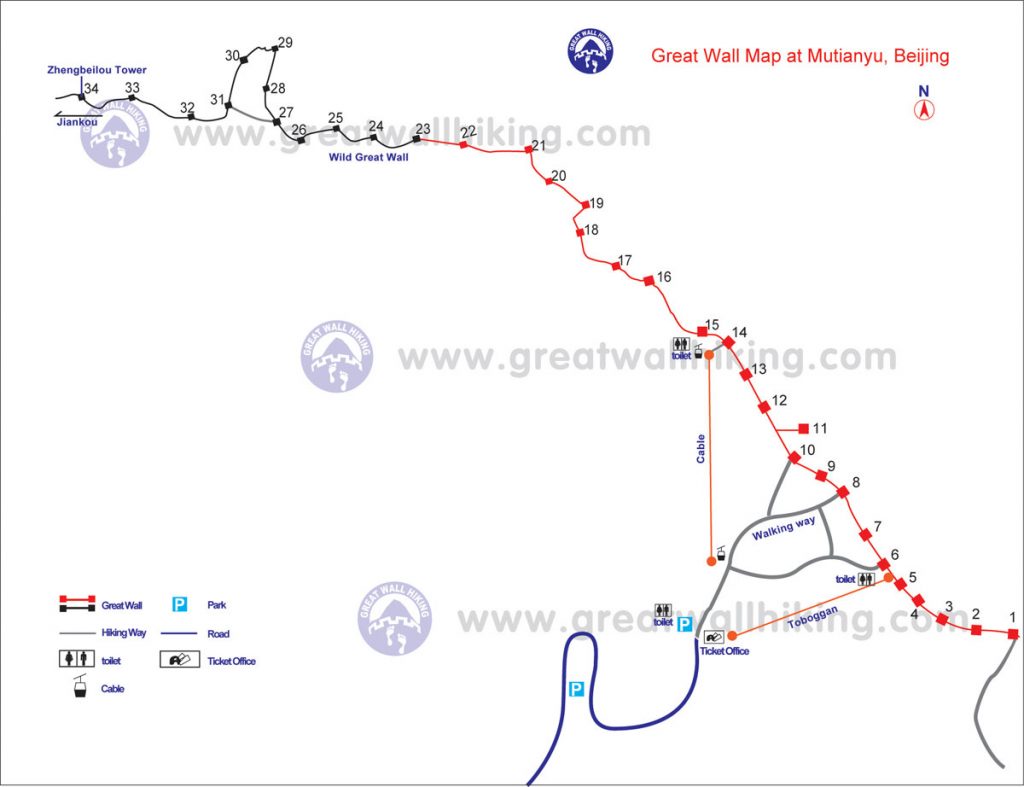 Beijing
Luckily I managed to meet up with my local Swedish friend, Maja!
She showed me the Tiananmen square and some other nice places in Beijing.
With her fiancee, she made me discover the hotpot: Delicious Chinese fondue.
After having spent a month in China, I discovered my favourite affordable dishes:
7.5¥ = €1
Jian Bin (10¥)


Chinese pancake roll with green onion and egg
Malatang 麻辣烫  (15-20 ¥)
Noodle soup where you could pick your own vegetables/meat/fish

Dumplings (15¥  for big plate)


Small Ravioli-like dough filled with a mix of meat and/or vegetables

Steambuns (3¥  for 1)


Small white steamed bread filled with vegetables or meat
Chinese cakes (1¥  for 1)
Always a question if it's filled with sweet or salty stuff, but oh so delicious!
In 12 hours I'm flying back to South-East Asia, to Vietnam.
It's only during my last week, I really started understanding, feeling and liking China.
In spite of the language barrier, strange Chinese logic, people spitting everywhere or not giving a damn if you need help or not, this country has still a lot of secrets that I would love to explore another time.
[flickr_set id="72157673918191063"]
Translation
As I mentioned before, Google translate was my hero!
The translation app used by the locals, gives sometimes really weird but funny results!
Situation: Watching a fake Indian action movie in the bar of the hostel. Lots of people are kind of laughing with Indian awesomeness and explosions. The Chinese girl sitting across me turns towards me in tears and says something in Chinese.
She uses her app to translate which gave:
Look at me straight a cold sweat.
Still no clue what she actually wanted to say.
This one was from a sign that Marc saw: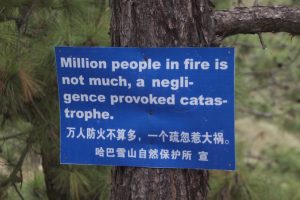 Oww China, I'll miss you.
Next: Saigon, Vietnam!