China… First impression… Cold… After spending two months in tropical environments, you get easily used to the nice weather. Like Europe, the north of China has four seasons. Like Europe, November isn't the warmest month of the year. It was about 5°C when I arrived in Beijing… As China wasn't "planned" when I left for my trip, I wasn't prepared for these temperatures. After a frosty flight and an overpriced taxi I arrived at 3.30am in my hostel.
Beijing – Leo Hostel
For the first time in two months, I had to be covered by warm blankets to sleep.
For the first time in two months, I could see my own breath in the cold. So this is kind of how the weather is back home in Belgium and Strasbourg… I feel with you guys… Luckily it's only for one month 😉
Anyhow, Leo Hostel hosted some really nice people, and suddenly we had a group of 10 people from all around the world going for dinner together. It was the first time on my trip that we had such a good vibe in a big group. Everybody got along really well and we had an awesome night!
I only spent two "full" days in Beijing, but didn't visit anything in particular.
After the Kungfu training, I was coming back here anyway. Going outside was kind of a torture for the moment.
One of the first things you notice when you arrive in China is the language barrier. Even for an enormous city like Beijing, almost nobody spoke English…
Thank you google translate for being my light in the darkness!
To get to the academy, I had to take a night train that I was able to catch! In this labyrinth of Chinese signs, platforms and strange Chinese logic it's not always convenient…
Maling Shaolin Kungfu Academy
After a short and comfortable night, I arrived in the "small" city, Xinyi. 1 million habitants, is considered small for a Chinese city…
Headmaster Bao picked me up from the station and brought me to the academy. The school itself is situated in the countryside close to Xinyi, basically in the middle of nowhere.
After having met everyone, discovered the local village and city, bought some cheap winterclothes, the weekend passed by and Monday was the first day of training.
[flickr_set id="72157677336943636"]
Weekly training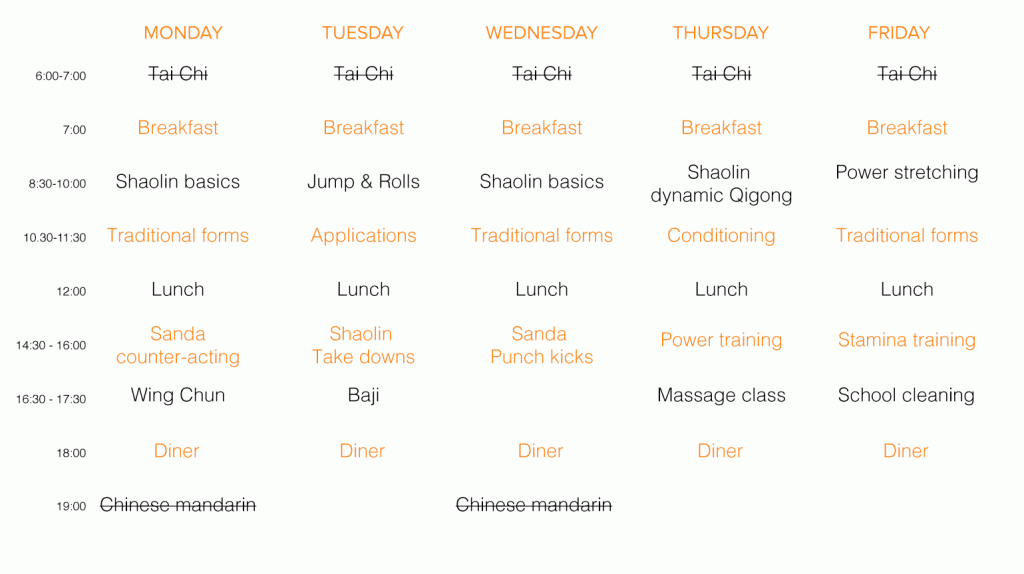 Thai Chi

Can be considered as a way of 

meditation

and helps your body to

relax

and get rid of stress. Thanks to

slow movements

you kind of learn different

self-defence techniques

in a relaxed way. In cities around the world, you can sometimes can see groups of  people practicing Tai Chi in

parks.


This morning class was optional and I only went once.

Shaolin Basics – Traditional forms

Learn basic and animal positions like

Tiger

,

Horsemen

,

Eagle

,

Snake

,

Manta shrimp, Dragon

…
Every step had to be

tweaked

and

perfected

 into detail.
These positions were sequenced into

forms

. Sometimes in combination with

weapons

.
In these two weeks I managed to learn one form:

5-step, 

which I had to do about

80

times in one class.

Applications – Sanda

This class applies the forms and movements into a way you could use them in a street fight.


Self defence, kicking, taking an opponent down

… Sanda is the competitive part of Shaolin Kungfu.
It was originally

invented

by the Shaolin monks to practice their skills

without killing each other

.

Jump & Rolls

My

favourite

class! The

acrobatic

part of Shaolin Kungfu. Learn how to

walk on your hands

, do

frontflips/backflips

, learn how to fall properly. Learn to

kickup

from the ground… Too bad it was only once a week 🙂

Power training

1 hour of

hell

… My least favourite class… Doing a crazy number of

weights, pushups, sit-ups

… at a superfast pace.
God, the best moment was when he asked us to line up and the class was over…

Power stretching

Test your flexibility and discover your limits… And

go far beyond

that until your muscles are

screaming in pain!

 Master Wong "helped" me doing my split… That was the

longest minute

in my life! Not really good for your body in my opinion…

Conditioning

Train your body to

get used to pain

. Hit the

wall

±50 times

with your fists/elbows/head/fingers/arms/… Kick each other on the legs/in the abs/on the back/on the arms… Do a

5 minute plank on your fists on frozen concrete

.
Mondays were kind of ok. On Tuesday you felt a little bit sore. Wednesdays, every part of your body was hurt. Thursday after lunch, you weren't able to walk. After the power stretching on Friday, you feel like a chewing gum and you're grateful for the weekend!
The trainings were hard and the masters strict, but in these two weeks I learned so much!
I discovered that you're able to do much more with your body then you think.

Freetime and the students
In the evenings we would play Dungeon and Dragons(DnD), a roleplaying game where your imagination is the key.
On weekends we would go to the city to do groceries, eat fastfood or sing karaoke.
The other students were all really nice and all had a really interesting story and background.
(guys let me know if the information isn't 100% correct)
Jim and Joanne

(sorry if I spell this wrong)
A lovely retired

Canadian

couple who

sold their house

 to spend a couple of years in this academy.
Jim was doing Tai Chi since

1984

if my memory is correct.

Shane


A real Shaolin knight from

Florida

who has been in the school since

10 months

and is planning to stay about

four years.


He's also the Dungeon Master (moderator) for our DnD games.

Sabine


An

incredible flexible girl

from Germany who already spent a long time in a different Kungfu school in China. Later she wants to become a master herself and share her knowledge.
Check her experiences and Kungfu knowledge on her blog
In the period I was in the school, we were about 13 students. It was a real pleasure meeting all of you!
It makes me really happy to meet people who are doing this with so much passion.
[flickr_set id="72157677337036556"]
Good luck to Casper, Catarina, Sabine, Phil, Jim, Joanne, Marcel, Shane, Brad, Zak, Steve, Nonnae and Kasia with your Shaolin adventure!
Thank you Master Du, Master Bao and Master Wong for your knowledge and patience!
If you're looking for more information around martial arts, check out Jo Anderson's training guide! It gives you a lot of tips and advice on different martial arts!