Kia ora! Hello, thank you, goodbye… In the Maori language, the indigenous Polynesian people from New Zealand.
After finishing some last freelance projects from the library of Auckland, I prepared myself for my trip through New Zealand. Jens would join me and we would try to hitchhike all the way to Wellington. Before taking of for our trip, I was able to catch up with Caroline, a friend I met two years ago in Iceland. After buying some last minute second hand camping equipment, we stretched our thumbs and started our trip. I'll refer to the local NZ as Kiwis. They love to 
Thumbs up
Jens and I already have some proper hitchhiking experience from a trip we did two years ago. During that trip, we got stuck around Nurnberg for 13 hours and spent the night next to the road. As we had this experience, we were prepared for the worst. Out of experience, we knew that we needed the next couple of things:
Road map

Water

Tent

Big smile

Rain equipment

Gas stove

Lots of patience
Auckland – Hamilton
So far, getting out of Auckland has been the hardest part. It took us about 1.5 hours and tw
o rides to get out of the center. After the second ride, we were dropped off at a gas station. Here we convinced Jan from Holland, to drive us to Hamilton. Thanks to Campermate we found our first camping and it would be a good occasion to test our tent.
Hamilton – Matamata
The next morning, our plan was to hitchhike to the Waitomo Caves. If we would make it in time, we could spend the night on a farm stay near Waitomo. Until we met our camping neighbours… Alan, a retired kiwi from Ohakune was passing by Waitomo and offered us a ride. We couldn't believe our ears and excited we hopped in his car. As soon as we arrived at our destination, Alan gave us his phone number and phone numbers from friends in Wellington and Rotorua. He invited us to call him or his friends if we wanted to stay at his or their place. Blown away by this friendliness and hospitality, we bought our tickets for the caves
[flickr_set id="72157688080785315″]
The Waitomo Caves
The caves are carved by underground streams pushing through soft limestone over thousands of years. Many have amazing stalactites growing down from the ceiling and stalagmites growing up from the cave floor, pointy cones of layered rock formed over centuries by dripping water. The cave walls are also decorated with galaxies of native glow worms.
Seeing the glow worms on the ceiling gives a magical touch to the caves.
As it was only noon, we decided to hitchhike to Matamata straight after our glow worm visit. This town is home for Hobbiton, a significant location used for The Lord of the Rings (LOTR) film trilogy and The Hobbit film series.
After three rides and only 10 short minutes standing next to the road we made it to Brock's place. Brock's place was the name of our scenic farmstay. The camping terrain had a fantastic view on the area.

Matamata – Rotorua
After a rainy night in the tent, we packed our stuff and made our way to Hobbiton. As we're big LOTR nerds, this was one of the highlights of our trip! Even during our Hobbiton visit, the rain didn't leave us alone. I won't dedicate much text to Hobbiton, the pictures will speak for themselves. Later on, we managed to hitch on the Hobbit bus towards the center of Matamata. Our destination of that day was the geothermal active and sulfur smelling city, Rotorua. After one ride, we made it in no time to the city. Here we tried to contact Alan's friend to get eventually hosted.
Heston's family
This didn't work out, so we tried to hitch to the next camping. It was getting dark and it was still pouring, but we managed to get a ride from Heston.
When he heard that we were going to put up a tent on a camping, he invited us to stay with his family. Again, blown away by this kindness we gladly accepted his invitation!
We ended up staying two nights with Heston's lovely family. His wife and the kids, thought us lots of Maori vocabulary. They also did lots of travelling before, and always enjoyed it when people invited them in their homes. This was their way to pay back the favor. Thank you so much Heston and your family for your kindness!
[flickr_set id="72157685670472553″]
Rotorua – Ohakune
From Rotorua, we hitched in two rides easily all the way to Ohakune. Ohakune is situated in the middle of the north island and hometown of our friend Alan. He invited us to stay at his place if we wanted. This was the most comfortable bed I've seen in the past 5 months! From here, we were planning to do the Tongariro crossing. But due to rainfall and lot's of wind, we decided not to do it. We ended up doing a smaller track, but even this one, we decided to turn back. Alan dropped us of at the beginning of the hike, and we hitched back to his place in the afternoon. For being such a quiet road, this was the most easiest hitchhike trip we did!

Ohakune – Wellington
The next morning, we thanked Alan for his hospitality and he dropped us off just outside Ohakune. After three easy rides we made it to the capital city, Wellington. One of our friendly drivers of that day, happened to be Farah Palmer. At the time we had no idea who it was, but later on we discovered she was kind of the local Kim Cly
sters from New Zealand! (But then for rugby).
[flickr_set id="72157688080914215″]
Hitchhiking in New Zealand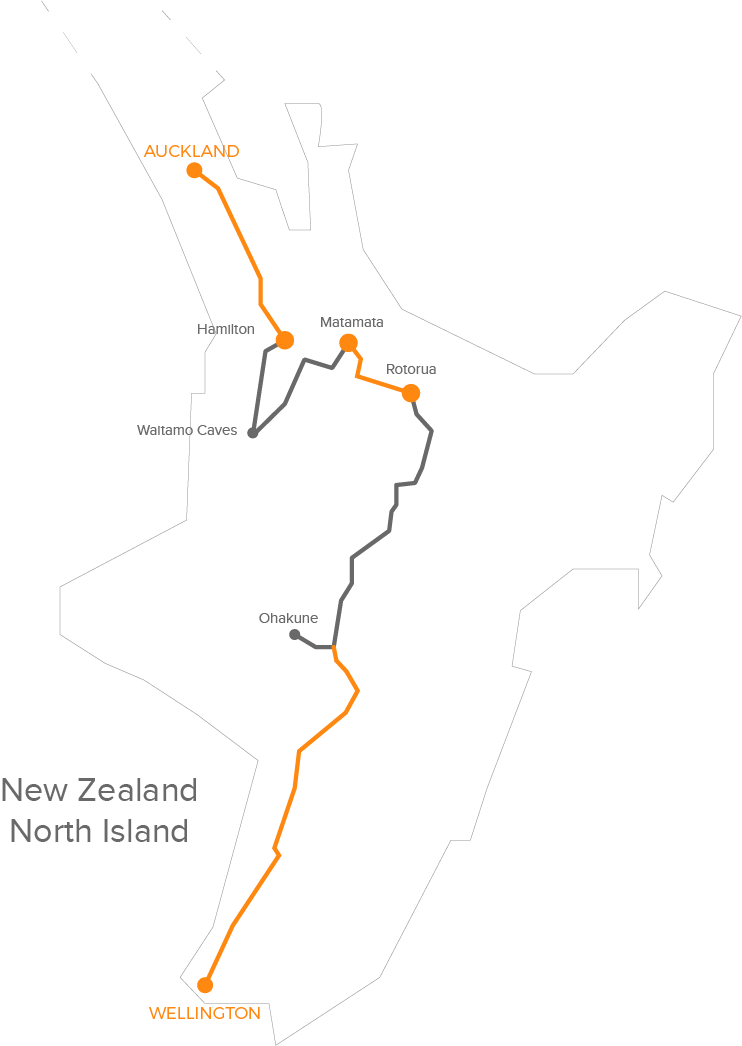 Hitchhiking is something that I would recommend to everyone to try once in their life! I've had many discussions about safety with other travelers, but this last week could blow all these discussions away. The harde
st part of this trip, was to get out of Auckland. Afterwards it was a piece of cake! At a certain point, we even hitchhiked out of laziness to walk to Te Puia. We were even invited for breakfast by one of our drivers… At a certain point, a Kiwi walked up to us to ask what we were doing. He wasn't going in our direction, but invited us to his place for a coffee! Compared to other places in the world, hitchhiking in New Zealand is really easy! It might sound cheesy, but this week made me a happy Matsou 😉 Faith in humanity restored…
Lots of stories in one post… Afterwards, we took the ferry from Wellington to Picton, but I'll write more about that part in the next post. I am falling in love with New Zealand!